Posted: June 13, 2010
Filed under: Baseball, Basketball, college basketball, college football, Hockey, Uncategorized, World Cup
| Tags: Bill Buckner, college conference shifts, Jack Nicholson, Patrick Kane, Randle P McMurphy, Robert Green, South Africa, vuvuzela, World Cup
3 Comments »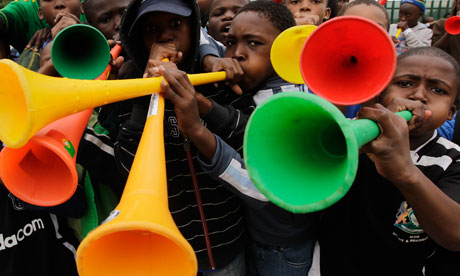 Listening to all those annoying vuvuzela horns at the World Cup in South Africa reminds me of a swarm of bees. Commentators have described the sound as "annoying" and compared it with "a stampede of noisy elephants," "a deafening swarm of locusts,"a goat on the way to slaughter" and "a giant hive full of very angry bees."Ouch, dammit, just got stung!
Not a big soccer buff, but that gaffe by England's keeper Robert Green that handed the United States a goal and ultimately a 1-1 draw with the favored Brits brought back memories of Bill Buckner.
BTW, why is England called England in the World Cup and the UK everywhere else?
These college conference shifts are making me dizzy. If this merry-go-round somehow turns into a football playoff system, it's all good. If not, it's bookkeeping .
Could've made some nice coin betting that Francisco Cervelli would have the same amount of RBIs as Joe Mauer (27) going into play on June 12.
Pete Carroll got out of Dodge just in time, leaving those USC penalties in his wake.
Playoffs make for strange heroes. The endearing image of the NB
A Finals so far is little Nate Robinson hugging Glen "Big Baby "Davis aka Donkey and Shrek, shown right.
If we were living in an alternative universe and Butler's Gordon Hayward had made that half-court heave to beat Duke, would it have gone down as the best shot in history? That's a tough one, but well, the answer is yes. It beats Christian Laettner's  buzzer-beater, as well as any of Michael Jordan's game winners. Jerry West made a 63-foot shot to send a playoff game into overtime in 1970, but the Knicks went on to beat the Lakers that night. Then there was Gene Sarazan's double eagle at the 1935 Masters. And Bobby Thomson's shot heard round the world, that helped the Giants win the pennant in 1951. Would any of those top Hayward? Not in this alternative world.
Speaking of college hoops, why is Jim Calhoun hanging on at UConn.
Is there a better Jack Nicholson than Randle Patrick McMurphy in "One Flew over the Cuckoo's Nest."? How about here's Johnny, Jack Torrance, in Stephen King's "The Shining." Or Melvin Udall in "As Good As It Gets."
Tom Izzo isn't taking that Cavaliers job unless he knows LeBron is coming back.
Do you think Patrick Kane would trade his name on the Stanley Cup for an Olympic gold medal? Kinda wondered the same thing about Sidney Crosy, but he's already got both.
Is Brett Favre retired yet?
---
Posted: April 13, 2008
Filed under:
Sports
| Tags: Arnold Palmer, Augusta, Gary Player, golf, Homer Smith, John Daly, Masters, PGA, South Africa, Trevor Immelman
Leave a comment »
At gusty Augusta, Trevor Immelman tamed the Tiger, never let him get within stalking distance.
Tiger Woods was the overwhelming favorite to win the Masters; even money against the field going in according to one Vegas sheet. Immelman? Not exactly a household name or the trendy choice. He had about as much chance of winning the Masters as John Daly has of passing up the next beer.
Immelman, a native of South Africa, faced different kind of odds last December when he was forced to withdraw from the South African Airways Open due to discomfort around the ribcage area. He went into surgery, and doctors discovered a lesion approximately the size of a golf ball on his diaphragm. It was diagnosed as a calcified fibrosis tumor. After more tests they discovered that it was benign.
He missed the first eight weeks of the 2008 PGA Tour season.
As for Tiger, he remains tied with Arnold Palmer with four Masters titles, two behind Jack Nicklaus, who won six and finished second four times. Jimmy Demaret, Nick Faldo, Gary Player and Sam Snead each won three green jackets.
Ten others, including Homer Smith, Ben Hogan, Byron Nelson, Phil Mickelson and Tom Watson, won three championships. Homer Smith, not exactly a household name either, won the first Masters in 1934.
---