Posted: March 26, 2011
Filed under: Basketball, NBA, Uncategorized
| Tags: Carmelo Anthony, James Dolan, Mike D'Antoni, NBA, New York Knicks
Leave a comment »
Melo and the Knicks are missing the point – they're heading the wrong way.
Several weeks back, shortly after the Carmelo Anthony trade, Knicks coach Mike D'Antoni said he'd be satisfied if the Knicks won half their remaining games.
Way to set the bar high, coach. You've got two superstars on your team, two of the five top scorers in the NBA in Anthony and Amar'e Stoudemire, and your goal is mediocrity. Sadly, the way the Knicks are playing right now, they'd settle for playing .500 ball.
The playoffs, which seemed like a lock a few weeks back, are no sure thing anymore. The Knicks are in a free fall, having lost five straight and eight of their last nine. It would take a historic collapse for the Knicks to miss the post-season in the NBA's weak Eastern Conference, but after losing to the likes of the Bucks, Pacers, Pistons and Cavs, the playoffs are no longer automatic.
Here's a typical Knick game: Come out flat and fall way behind in the first quarter, play catch-up ball in the second and third, then fail to execute in the fourth and go down to defeat. Again and again, the pattern repeats.
"It's going to take a while," D'Antoni said several weeks ago. "I don't think we'll get it as well as we want this week or next week. But at the end of the year we should have it real good. In the meantime we have to get in the playoffs — whatever seed it is and prepare for that team."
"I know everybody's anxious. I'm anxious, the players are anxious. There's no way you can throw four-to-six new guys into a rotation and all be on the same page. Some teams exploit things we haven't gone over."
The Knickerbockers are good on one thing — excuses. Peter Vecsey outlined a few of those excuses in his always entertaining Hoop du Jour in the New York Post.
Excuses, Excuses, Excuses
"Everybody has them and goes to 'em nightly. You all know the drill by heart — trade adjustments; readjustments to Billups returning from a thigh bruise, though the team was 4-1 without him; rough March schedule; rough upbringing; rough surf; the dog ate my home-court advantage; James Dolan spending too much time getting Radio City ready for Charlie Sheen."
D'Antoni is part of the problem. More than one Knick fan has suggested he remove the "D" from his name — since his team doesn't play any.
Earlier this week, the Knicks decided not to practice on an off-day — although it's obvious they need the work. "If nothing else," one player said, "we need a break from each other."
Gimme me a break. Which of course Cablevision brat James Dolan didn't give Madison Square Garden fans when he raised ticket prices by an average of 49 percent.
---
Posted: August 15, 2010
Filed under: Baseball, Uncategorized
| Tags: Isiah Thomas, James Dolan, Madison Square Garden, NBA, New York Knicks
2 Comments »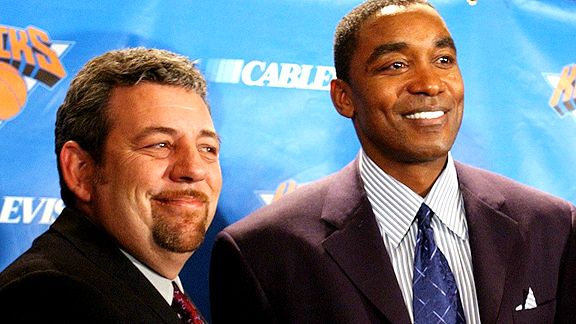 It's only a matter of time before James Dolan and Isiah Thomas are together again.
They haven't been to the playoffs in six years, they tanked the last two seasons in a futile attempt to recruit LeBron James, and now they've tried to rehire Isiah Thomas, the clown who ruined the team and then was disgraced in a sexual harassment suit that cost the club $11.6 million.
Thomas rescinded his contract because NBA rules prohibit him from working as a consultant for a team while also holding down a college coaching job.
But does anyone believe that Dolan isn't waiting for the right opportunity to bring back Isiah, like the monster rising from the dead in so many horror films.
You can't make up this stuff….only in New York. But it's not funny any more.
Been a Knick fan since the 1960s. Saw my first game at the old Madison Square Garden on 49th and 8th in 1966, an all-NBA doubleheader, Sixers-Pistons followed by the Knicks against the St. Louis Hawks.
Rode the championship wave of 1970 and 1973 and the good-but-never-quite-great days of the Patrick Ewing era. Good times and bad,, win or lose.  The SportsLifer wears blue and orange.
But these Knicks are straining my patience and testing my loyalty.
What is He Thinking?
James Dolan is an idiot. Yeah, that's a good idea, bring back Isiah as a consultant. The same Isiah who brought in the likes of Eddy Curry and Stephon Marbury to New York, trading a boatload of number once picks and then saddling the team with two outrageous contracts.
The same Isiah noted more for his exploits in the workplace than actual results on the basketball floor.
The Knicks haven't made the playoffs since 2004, haven't won a playoff game since 2001. That's almost 10 years ago.
Is there any hope for the future? Nope. Not as long as Dolan's in charge.
"Although I'm disappointed that Isiah will not be working with the Knicks as a consultant, I continue to believe in his basketball knowledge, including his ability to judge talent," said Dolan. He's a good friend of mine and the organization, and I will continue to solicit his views. He will always have strong ties to me and the team."
Now that's reassuring, isn't it Knick fans. Very reassuring.
---
Posted: March 6, 2008
Filed under:
Sports
| Tags: Brett Favre, James Dolan, Phineas T. Barnum, Roger Clemens, Rusty Hardin, Stephon Marbury
3 Comments »
Was Brett Favre the best quarterback ever? That 's a up for debate (and perhaps the subject of a future blog)…but any QB who leads all-time in wins, touchdown and yardage is certainly in the discussion.Favre played the game with spirit…and he played every game….and he had fun doing it.
Giant fans will always remember his last pass — the Corey Webster interception in overtime on a frigid night in Green Bay that catapulted New York into the Super Bowl.
Does anybody really care whether Stephon Marbury shows up at Madison Square Garden. There's lots of guys on the Knicks who don't show up, even when they're active and playing.
The Knicks are irrelevant. Shame on you, Son of Cablevision Dolan and Isiah for turning one of the charter NBA franchises into the laughingstock of the league.
Here's hoping your attorney is not giving you the same lame-brained advice that Rusty Hardin has given Roger Clemens. Rusty reminds me of Phineas T. Barnum.
He's got the clowns and the high-wire act, just missing the elephants and cotton candy.
Better start doing your NCAA homework. March Madness will soon be upon us. Major in bracketology.
Teams play the entire season and virtually everyone — outside of the Ivy League — is still alive and kicking.
Trivia question: Name the only college football team to have three players make the NFL Hall of Fame?
---