Posted: February 2, 2012
Filed under: football, NFL, Super Bowl
| Tags: Bill Belichick, Eli Manning, Giants-Patriots, Super Bowl factoids, Super Bowl XLVI, Tom Brady, Tom Coughlin
Leave a comment »
It won't get you a ticket to Super Bowl XLVI, but you'll amaze your friends and relatives with these football factoids. And may you roll winners in all your pools.
Quarter Century Club: Some 25 years ago last week, the Giants won their first Super Bowl. Over the past quarter century, four teams — the Giants, Patriots, 49ers and Cowboys — have won three Super Bowls apiece. Four others — the Redskins, Packers, Broncos and Steelers — have won two apiece. No team has won more than three. The Pats have played in six Super Bowls in the past 25 years and the Giants five. So the winner of this year's Super Bowl between the Giants and Patriots will be considered the best NFL team of the past quarter century.
Been There, Done That: For just the fourth time in history, the Super Bowl matches coaches who have won previous Super Bowls.  Tom Coughlin and Bill Belichick join Bill Walsh (49ers) and Don Shula (Dolphins), 1985, and Chuck Noll (Steelers) and Tom Landy (Cowboys), who matched wits in 1976 and 1979.
Parcell Roots: Coughlin and Belichick were both assistants to Bill Parcells when the Giants won Super Bowl XXV in 1991. Coughlin was the receivers coach, and Belichick as d
efensive coordinator designed the scheme that beat the heavily-favored Bills.
Roger Terry, It's Eli and Tom: For only the third time in history, quarterbacks who have won Super Bowls — Tom Brady (3) and Eli Manning (1) — are facing off again. Pittsburgh's Terry Bradshaw and Dallas' Roger Staubach met in 1976 and again in 1979.  The Steelers won both encounters.
Been There, Done That, Redux: Giants-Patriots is just the sixth rematch in Super Bowl history. Steelers-Cowboys three times, 49ers-Bengals twice. Dolphins-Redskins twice and Cowboys-Bills twice are the others.
Lucky Seven: If the Giants win Sunday, they will be the first seven-loss champion in NFL history.
Coaching Icons: Bill Belichick will be coaching in his fifth Super Bowl, same as Tom Landry and one behind the all-time leader, Don Shula.
Starting QBs: Tom Brady will join the Broncos John Elway as the only quarterbacks history to start five Super Bowls
If I Were A Betting Man: How long with the National Anthem last (over/under 1:36)? How many times will they show Peyton Manning on TV (over/under 5 1./2 times)?; How many viewers will watch the game (over/under 115 million?. And my favorite — where will the coin toss land __ heads $110 vs tails $110. Point spread 3; over/under 55)
Only the Lonely: Four current teams — Lions, Browns, Jaguars and Texans — have never reached the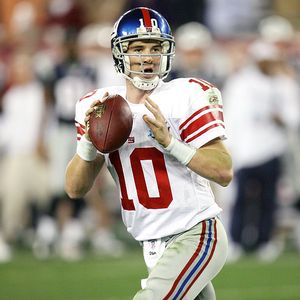 Super Bowl. The Lions and Browns did win NFL championships four times apiece.
Longest Drought: The Jets last appeared in Super Bowl III in 1969 and the Chiefs the following year.
Glass Half Full: The Giants trailed at halftime of all four Super Bowls in which they played, yet managed to win three of them.
Giants-Pats at Harvard: Not counting Super Bowl XLII, the Giants and Patriots have met nine times in the regular season, with the Pats holding a 5-4 edge. In their first meeting in 1970, the Giants beat the Boston Patriots 16-0 at Harvard Stadium. Pete Gogolak kicked three field goals that day, and Fran Tarkenton threw a 28-yard touchdown pass to Clifton McNeil. Joe Kapp was the Patriots quarterback.
Three-peat: The Patriots have been to the Super Bowl five times in the past 10 years; the previous four games were all decided by three points.
Streaking: The Pats have won 10 game in a row. The Giants are riding a five-game win streak.
Almost, But Not Quite: The Giants and Patriots came close to meeting in several other Super Bowls. A year after the Pats lost to the Bears in 1986, the Giants won their first Super Bowl, beating the Broncos. And the Patriots beat the Rams to win their first Super Bowl in 2002 — a year after the Giants lost to the Ravens.
---
Posted: October 23, 2009
Filed under: college football, NFL
| Tags: American Airlines, Bill Belichick, Bill Parcells, Grateful Dead, Jets, Pete Carroll, Rose Bowl, Southern California, USC
1 Comment »
Things have worked out just fine for Pete Carroll at USC.
Nearly 15 years ago, I settled into a window seat on an American Airlines flight from JFK to San Francisco, one of a seemingly endless chain of business trips from New York to Silicon Valley.
I opened up my Sunday New York Times (which always makes for great cross country reading) and started reading the sports pages, when a man sat down in the empty seat next to mine.
The guy looked familiar, though I couldn't place him right away. Then it hit me. That's Pete Carroll, Coach Carroll. formerly of the Jets.
After my "Hey Coach" introd we struck up a conversation, and talked on and off as AA Flight 15 made its way across the Alleghenies over the cornfields of Iowa and the Rockies and eventually into SFO.
As it turned out, we were born the same year, so we had a lot in common growing up, Carroll in Northern California and me in suburban New York. He asked me if I was a Jets or Giants fan. I told him the Giants were my team, but that like many New Yorkers I also followed the fortunes of the Jets, especially when they were having a good season.
We talked about Grateful Dead concerts we had attended, about Woodstock and some of the other great bands of the 60s and 70s.
A Year with The Jets
Carroll had just been fired by the Jets after just one season at the helm. The Jets got off to a 6–4 start under Carroll in 1994, but in week 12 they were victimized by Dan Marino's clock play that led to a Dolphins game-winning touchdown.
They lost all of their remaining games to finish 6–10. Carroll was fired, replaced by Rich Kotite. How did that work out Jets fans?
I remember telling Carroll that I felt been giving a raw deal from the Jets, who never really gave him a chance.
He told me he was returning home to San Francisco to interview with the 49ers for a defensive coordinator position.
Well Carroll took that position in 1995 and two years later was named head coach of the New England Patriots. Taking over for Bill Parcells, he led the Pats to a 33-31 record and two playoff appearances in three years before being replaced by none other than Bill Belichick.
Success at USC
Carroll was named the head coach at Southern California in December of 2000,
signing a five-year contract after USC had gone through a tumultuous 18-day search to replace fired coach Paul Hackett. He was not the Trojans' first choice, and was considered a long shot as USC initially planned to hire a high-profile coach with recent college experience.  Meanwhile Carroll, who had not coached in over a year and not coached in the college ranks since 1983, drew unfavorable comparisons to the outgoing Hackett.
To date, Pete Carroll. He is 93-16 as head coach with the Trojans, with back-to-back national championships in 2003 and 2004. His team won a school-record 34 straight games from 2003–2005, a streak that started after a triple-overtime loss to California and ended with the national championship game in the 2006 Rose Bowl, against the Texas Longhorns.
In a recent interview, Carroll told Esquire magazine: "Jerry Garcia said that he didn't want his band to be the best ones doing something. He wanted them to be the only ones doing it. To be all by yourself out there doing something that nobody else can touch — that's the thought that guides me, that guides this program."
Yep, things are working out just fine for Pete Carroll at USC, thank you.
---
Posted: February 13, 2008
Filed under: football, Sports
| Tags: Bill Belichick, David Tyree, Eli Manning, New England Patriots, New York Giants, NFL, Super Bowl, Tom Brady
3 Comments »
The Best Super Bowl Ever
Catch XLII: David Tyree's heroics spark Giants past Patriots.
Alan Ameche scores in overtime to beat Giants for 1958 NFL title.
It was 50 years ago this December that the Baltimore Colts beat the New York Giants 23-17 in overtime for the NFL championship in what is often referred to as "The Greatest Game Ever Played." That is until Sunday, when the New York Giants rallied to defeat the previously unbeaten New England Patriots 17-14 and win Super Bowl XLII.
I know, take it easy, it's a bit early to start ranking and labeling the historic classic that was Super Bowl XLII. Give it some time, let it breathe. Like a fine wine.
Here are 10 reasons why XLII may one day be considered the best game ever…or at least the best Super Bowl ever
10 Reasons Why…..
The Greatest Super Bowl Ever
1. The undefeated team, the 18-0 Patriots, in the imperfect ending
2. The Giants, road warriors, but merely a 10-6 team entering the playoffs
3. The 12-point spread, making this one of the biggest upsets in SB history
4. The game-winning 83-yard drive, making the Giants only the second team to come from behind to win in the final minute of a SB
5. Last Manning Standing, the family saga, Archie, Peyton and Eli
6. Eli escapes, hits Tyree with the helmet catch, one of the great plays in SB history…ESPN is already calling this the greatest play in Super Bowl history
7. The fierce pass-rush on record-setting QB and MVP Tom Brady….defense still wins championships
8. The Plax guarantee — this legend is guaranteed to grow over time — and then he catches the winning TD.
9. The New York-Boston rivalry redux…it doesn't make up for Yankees-Red Sox and the Choke, but it sure helps
The way you all treated the Rockies during the Series makes me think that you got the ass-whipping you haughty punks deserved. Enjoy the taste of New York exhaust as it drives back down to the Number One City, with the Vince Lombardi, and all of your silly egos, with it. …boston.com blog
10. It was the most-watched Super Bowl ever with 97.5 million viewers, the second most watched TV show in history behind only the last M*A*S*H.
And for extra points…..
11. Belichick and Spygate
I guess it's not as easy to coach when you don't know the other team's plays in advance…..boston.com blog
---